MICROPACKED-MS

MICROPACKED-MS: Specifications and Prices
Analytical Column for Gas Chromatography Applications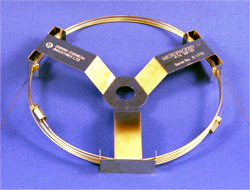 Conventional packed columns consist of tubes with inner diameters of 2-4 mm and lengths of 0.5-6 m, and which are packed with supports comprised of stationary phases coated with liquid phases. With changes in analytical trends, many varieties of packed columns have been replaced with capillary columns. However, because gaseous samples occupy large volumes and easily diffuse at room temperature, there are still a large number of unfavorable factors preventing a complete switch to capillary columns, with the result that many analyses of these kinds of samples still rely on packed columns. The MICROPACKED ST column was developed to be used in the same manner as capillary columns, as well as provide increased sample loading capacities.
Features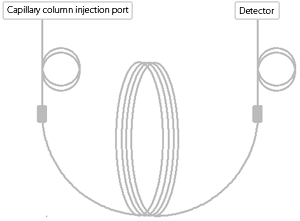 Base line separation of H2, O2 and N2 can be achieved in isothermal analysis using capillary GC system.
Packed with Molecular Sieve 5A.
The presence of special filter prevents the contamination of detectors from packing material.
Specifications
Packing material: Molecular Sieve 5A 80/100 mesh
Column dimensions: 2.0 m × 1.27 mm O.D. × 1.0 mm I.D. SUS
Connection tubes: 0.5 m × 0.52 mm O.D. × 0.30 mm I.D. SUS
Maximum operating temperature: 250℃
* Please be aware that column specifications may be changed without prior notification in order to implement improvements.
Analysis of permanent gases including Hydrogen using Helium gas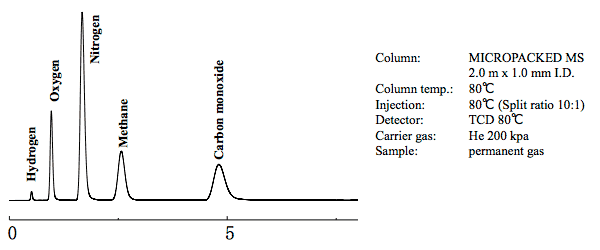 Analysis of permanent gases including Hydrogen using Argon gas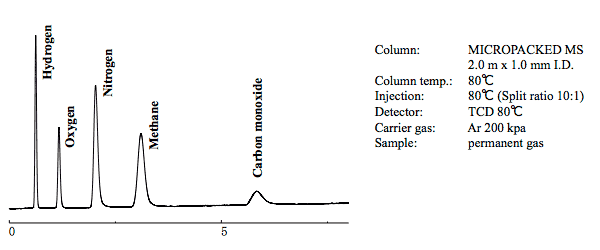 Handling precautions
This product is a separation column designed for use in gas chromatographs. Do not use this product for any other purpose. Please read the following precautions in order to use this product correctly.
Precautions when unpacking this column
Remove the column from its box by pressing down on the round foam rubber sheet located in the center of the column and pulling the column frame towards you. Exercise care when removing the column from its box, as the connection tubes attached to the ends of the column may spring back. When using this column, wear protective equipment including gloves and safety glasses, and exercise care in handling.
Precautions when using this column
Avoid bending this column excessively. Excessive bending can lead to crushing of the packingmaterial inside the column and emissions of fine particles from the column.
Do not allow kinks to form in the connection tubes attached to each end of this column. Kinks in connection tubes can lead to carrier gas leaks and blockages.
The maximum operating temperature for this column is 250℃. Do not subject this column to temperatures higher than 250℃.
When using this column at a temperature of 70℃ or higher, do not turn off the carrier gas.
Precautions when connecting this column to gas chromatographs
As with general capillary columns, this column can be connected to gas chromatographs using ferrules. Please use wide-bore capillary column (0.53 mm I.D.) ferrules in order to connect this column.
In the case of gas chromatographs that employ automatic flow controllers or analytical software to control carrier gas flow rates, actual carrier gas flow rates and split ratios, etc. will differ from values displayed. Enter dummy column dimensions (e.g., length: 250 m, inner diameter: 0.5 mm, film thickness: 10 μm) in order to achieve an appropriate level of carrier gas pressure and normal gas chromatograph control (no error outputs). When accurate carrier gas flow rates and split ratios are required, use a flow meter, etc. to measure the gas flow rates from the column and split outlets.

MICROPACKED-MS: Specifications and Prices

Page top