ULTRON HF
About ULTRON HF series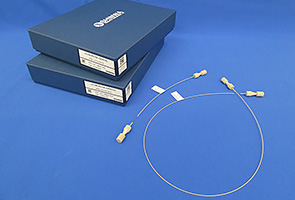 The ULTRON HF series is a capillary column that employs monolithic silica with hierarchical porous structure for high precision separation analysis.
The characteristic feature of monolithic silica is that it can be designed with a thin adsorption layer. Hence, this series is particularly useful for analysis of high molecular compounds.
In addition, since the inner diameter of the column is narrow such as 0.1 mm, etc., it is suitable for nano flow LC or LC/MS that requires high sensitivity detection.
We recommend the ULTRON HF series to our customers who analyze large molecular weight molecules such as peptides and intact proteins with high sensitive and precision analysis.
(*) Monolith-type silica was developed by Dr. Soga, Dr. Nakanishi of Kyoto University and Kyoto Monotech.
The structural control and characterization as a column for HPLC were performed by Dr. Tanaka of Kyoto Institute of Technology.
(1) N.Tanaka, H.Kobayashi, K.Nakanishi, H.Minakuchi, N.Ishizuka, Anal. Chem.73 (2001) 420A-429A.
(2) H. Kobayashi, T. Ikegami, H. Kimura, T. Hara, D. Tokuda, N. Tanaka, Analytical sciences. 22 (4), 491-501

Page top