Sample Well Plate Series

Sample Well Plate Series: Specifications and Prices
Sample Well Plate Ⅰ (Type U) & Well Caps

Features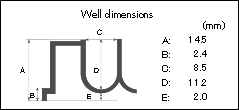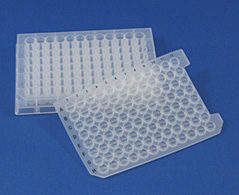 Sample Well Plate Ⅰ (Type U)
This is a sample well plate consisting of 96 500 μL, round-bottomed wells. (Sample well plate external dimensions are 128 x 86 mm. Sample well dimensions are shown in the figure on the right.)
Made from high quality polypropylene.
Well edges are higher than the surfaces of well plates, reducing the risk of contamination.
Well Caps
Silicon caps designed specifically for use with Sample Well Plate Ⅰ (Type U) well plates. Automatically form seals around needles when pierced.
Possess a unique structure which minimizes unsealing due to increases in well internal pressures.
Unique structure of well caps

When attaching well caps to well plates, air inside wells is released through the 4 slits located on the sides of well caps (see part A in the diagram above), thereby preventing increases in well internal pressures, the cause of cap unsealing. Complete sealing after attachment of well caps is achieved by the seal part B, also shown in the diagram above.
Elution tests for Sample Well Plate Ⅰ (Type U) and competitor's well plate
HPLC mobile phase sealed in each well plate was analyzed after 24 hours to determine the presence or absence of eluted components.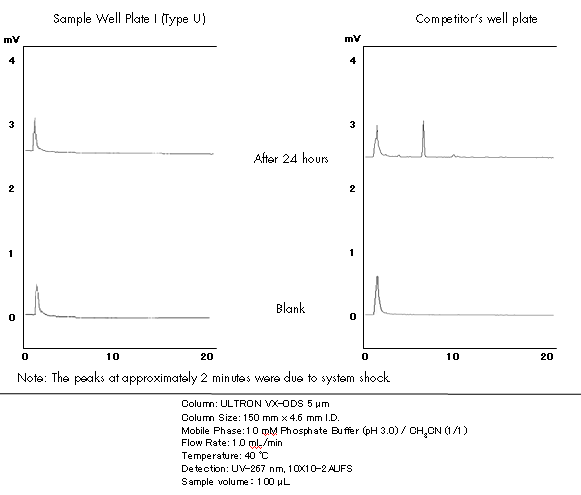 Carry out blank tests to verify the presence or absence of elution components when using solutions containing organic solvents in this product.
Dispensing Tool for 96 Well Plates


Address Plate®

This product displays well addresses at the bottom of 96 well plate wells, making manual dispensing easy.
Features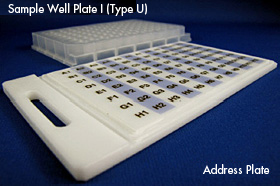 Address Plates are placed beneath 96 well plates when performing manual dispensing. Addresses are clearly displayed at the bottom of wells, helping to prevent dispension of different solutions into the same well.
Address Plates are made from acrylic resin. Addresses are printed using a special printing method making this a rugged, long-life product.
Notes:
Address Plates are designed for use only with round bottom micro-well plates. This product cannot be used with V bottom well plates. Please be aware that specifications and prices may change without prior notification due to product improvements.


Sample Well Plate Series: Specifications and Prices

Page top